Updates from President Crow: September 13, 2019
Kicking the year into gear with more than 13,000 new Sun Devils
Creativity, collaboration fuel fifth straight "most innovative" ranking
Universities have a vital role in strengthening Arizona's economy
Honoring the enduring legacy of J. Orin Edson at ASU
Campaign ASU 2020 breaks fundraising record for fifth straight year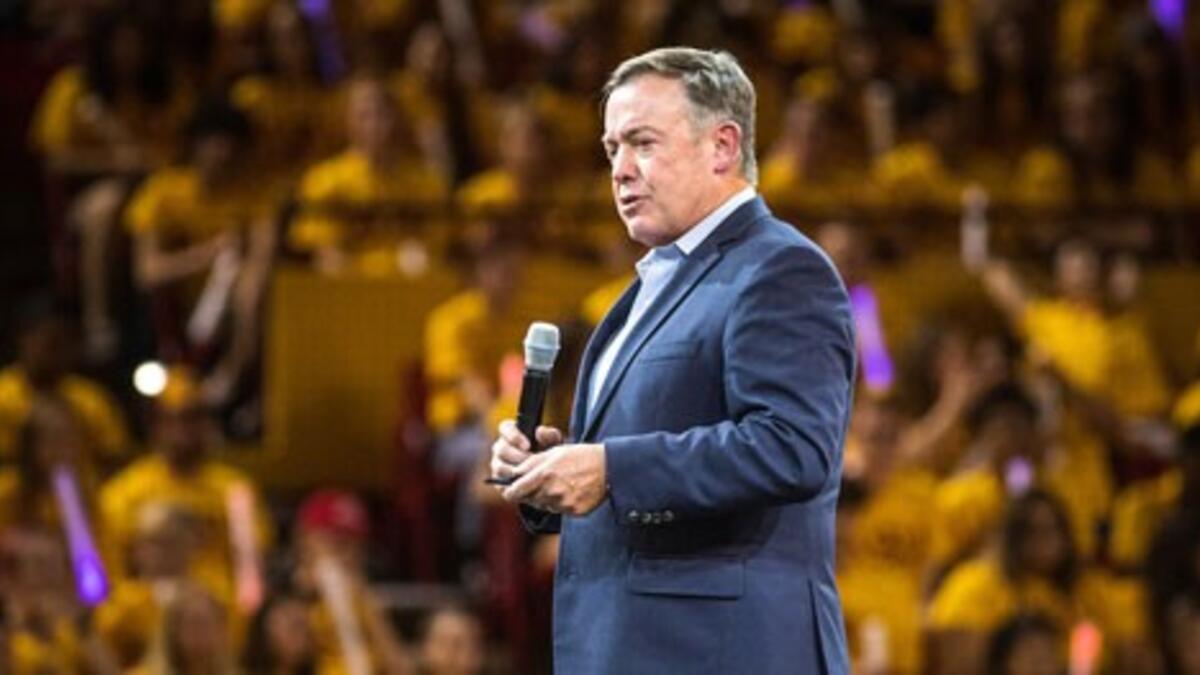 Kicking the year into gear with more than 13,000 new Sun Devils
The 2019-2020 school year swung into full gear when we gathered our largest, most diverse and most academically prepared first-year cohort in Wells Fargo Arena for our annual Sun Devil Welcome celebration . Held during Welcome Week, the Class of 2023 enjoyed student performances, demonstrated their school spirit, and learned a few Sun Devil traditions during a livestreamed event. After their introduction by college, I had the pleasure of personally welcoming our newest Sun Devils to Arizona State University, and to share advice drawn from my own college experiences as a first-generation student.

I encouraged our newest bright and energetic students to take advantage of everything ASU has to offer during their journey of self-discovery and assured them that every ASU faculty and staff person is standing at the ready to support their success. I also urged them to ask for help as needed, including reaching out directly to me with questions. Ultimately, the goal of our ASU community is to empower all of our 119,000 undergraduate and graduate students to grow and thrive in excellence and impact.

As demand for higher education in Arizona continues to grow and necessitate ASU's enrollment increases (nearly 8% this fall alone), I hope you will join us in evolving our university in service to these learners and their goals.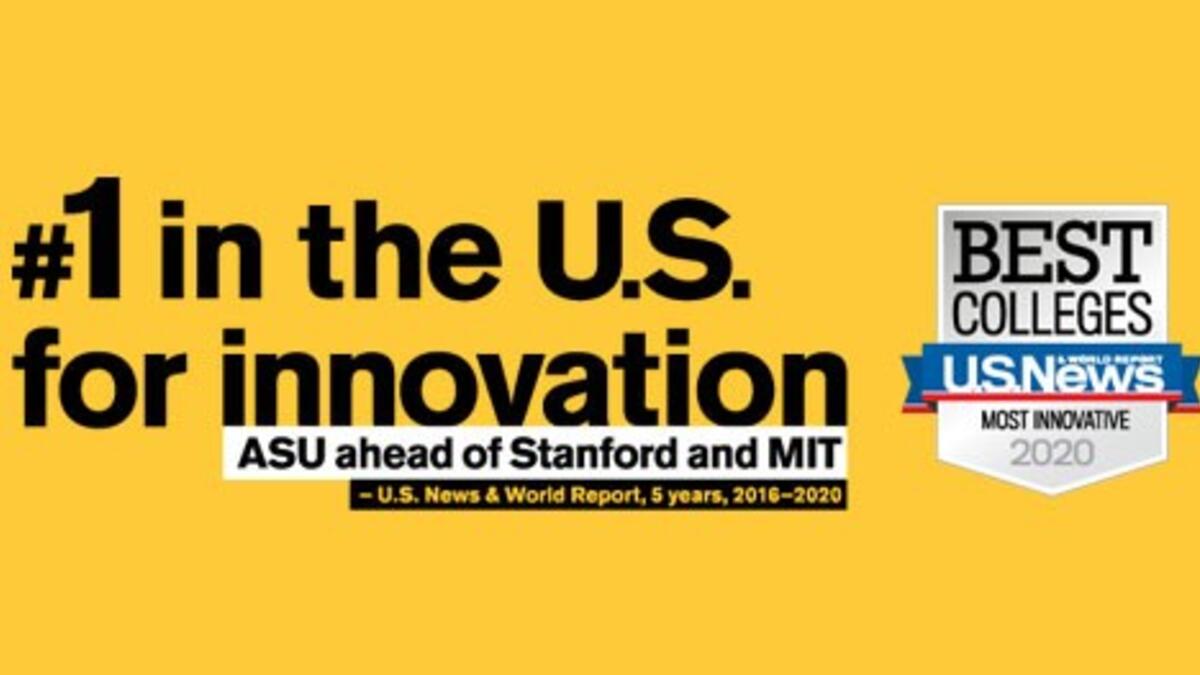 Creativity, collaboration fuel 5th straight "most innovative" ranking
I am very excited to share that – for the fifth straight year – Arizona State University has been named the "#1 most innovative school" in the nation.

ASU has held the top position since U.S. News and World Report established the category five years ago as part of its annual higher education rankings. Determined by a survey of university leaders, nominees are rated according to their most innovative enhancements in teaching, learning, students, technology and facilities, among others. We continue to distinguish ourselves for our enterprise-wide efforts to increase efficiency, service, discovery and impact, improvements that are evident in our top ten rankings among U.S. schools for our first-year experience and our undergraduate experience (#4 in both categories among U.S. public universities).

I am especially proud of our ranking because it speaks directly to our pursuit and progress of our official charter, as well as the collective commitment and work of our university community and our extended network of supporters. This designation would not be possible without their ideas, energy and effort, and the enthusiastic support of our pioneering state.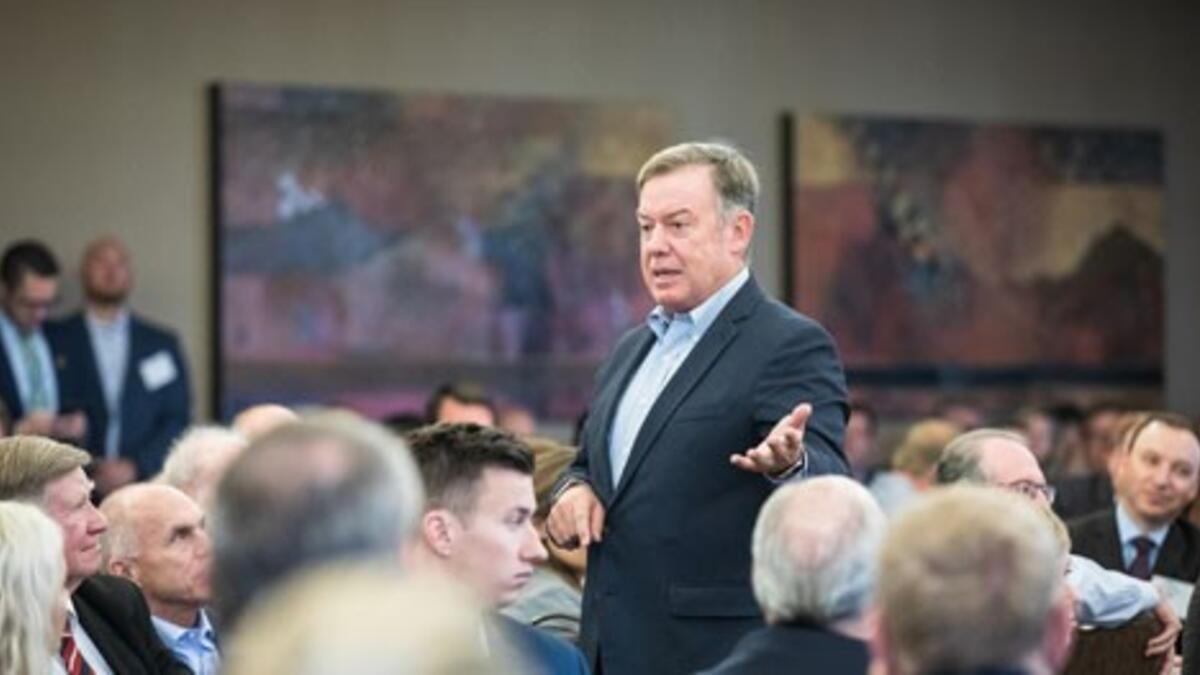 Universities have a vital role in strengthening Arizona's economy
I was invited recently to address the members of Valley Partnership, a local advocacy group, on ASU's progress and the steps we are taking to support a healthy economic future for Arizona. I am asked frequently to summarize how we are preparing a capable future workforce and helping to strengthen the regional economy. I appreciate these opportunities because it is very important that more people recognize the critical role universities play in evolving socially and economically robust state economies.

The transformation of a regional economy relies on skilled human capital, diverse and accessible assets, and an energized and collaborative economic environment. At ASU, we work to fulfill these needs by designing an institution that fosters adaptable and innovative learners, advances a world-class engineering school, demonstrates sustainability solutions, and collaborates with public and private partners to create meaningful economic opportunities. We are leaders in these efforts, but we are not alone.

Our state universities have incredible potential, talent, and capacity to evolve Arizona as a globally competitive economic force. My refrain to Valley Partnership and to our regional community at large is that we must decide collectively what kind of economic future we want and then work together strategically to make it happen. There are no limits to what can be achieved, which is why ASU will continue to push new ideas and dialogues forward.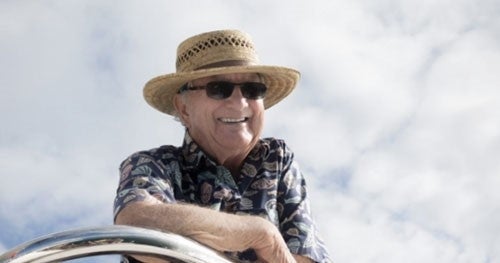 Honoring the enduring legacy of J. Orin Edson at ASU
One of the many special things about my work is the chance I have to meet and work closely with some amazing people. These individuals come from all backgrounds, nationalities, and professions and share some incredible stories, experiences, and lessons. Late last month, our ASU family lost one of its most steadfast friends and benefactors in J. Orin Edson.

The Edson name may bring to mind the Edson College of Nursing and Health Innovation or the Edson Student Entrepreneur Initiative, but those are only two examples of the many ways that Orin and his wife, Charlene, changed the ASU landscape. As a successful business and community leader in every sense, Orin Edson chose to share his knowledge, time, and resources to help students pursue their educational and entrepreneurial aspirations. He celebrated their achievements and always embraced the chance to use his philanthropy to tackle new challenges and search for new solutions.

Sybil and I feel fortunate to have been able to work closely with Orin and Charlene for more than 15 years and especially to have earned their confidence and support of efforts to move ASU forward. Orin's friendship will be missed, but his legacy in advancing entrepreneurship, health education, and research at ASU will have an impact for generations to come.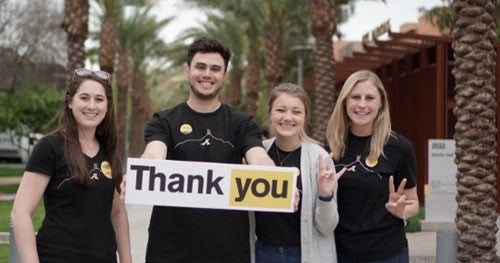 Campaign ASU 2020 breaks fundraising record for the fifth straight year
I am also pleased to share that the ASU Foundation has exceeded its annual fundraising goal for the fifth consecutive year. Thanks to the generosity of more than 101,000 individual, corporate, and foundation donations, Campaign ASU 2020 received nearly $414 million in donations. Roughly one-quarter of the year's donors were first-time givers, and the total amount donated represents an increase of 65% over last year.

This achievement is especially impressive because of the variety of donors – from major gifts to conservative individual gifts – and the important support offered from student-to-student and to our faculty. These investments make scholarships possible, fund groundbreaking research, and enable the university to provide new programs, services, and facilities to support the success of those we serve.

ASU could not pursue and demonstrate its excellence, access, and impact without the generous support of all its donors, and I am deeply grateful for everyone who made our achievement of this milestone record possible