Updates from President Crow: December 31, 2015
President Crow, ASU Honored by Science Foundation Arizona

ASU Represented on National Competitiveness Forum Innovation Panel

President Crow Welcomes Largest Class of ASU Fall Graduates

ASU Expands Support of Active Duty Military and Veterans

President Crow Invites You to His 2016 Community Conversation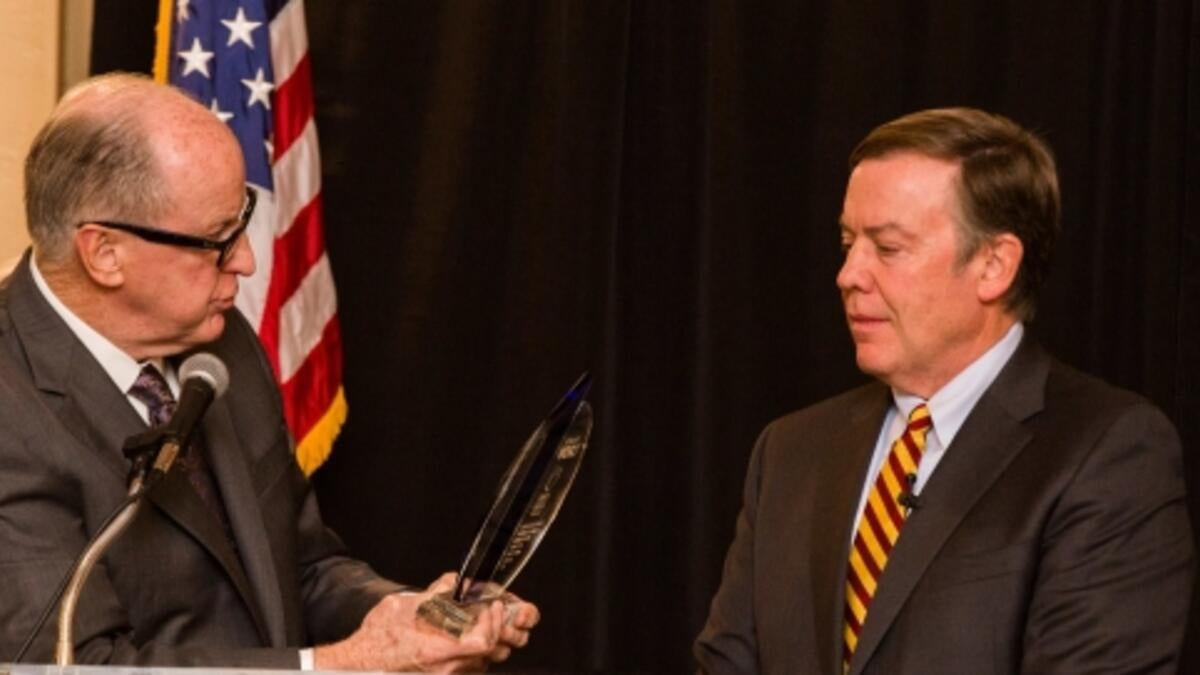 Science Foundation Arizona honors ASU President Crow
On December 1, Science Foundation Arizona hosted its 2nd Annual Erich Bloch Lecture, a signature event named after the IBM System/360 pioneer and former National Science Foundation director that recognizes an individual and/or organization for their leadership in advancing the fields of science, research and innovation. In a special video message, Erich Bloch shared that Michael Crow and ASU were his clear choice as honorees given the University's selection as U.S. News & World Report's "#1 Most Innovative School" (ahead of Stanford and MIT), and growing reputation for institutional excellence. Bloch also urged President Crow, Governor Doug Ducey and other leaders in attendance to work together to nurture Arizona's talent in support of an environment of innovation and prosperity.

The evening program's highlights included remarks by President Crow on ASU's progress and commitment to growing STEM education in meaningful ways and a unique, moderated conversation between President Crow and Governor Ducey that examined how Arizona can move forward toward a modern, high tech economy.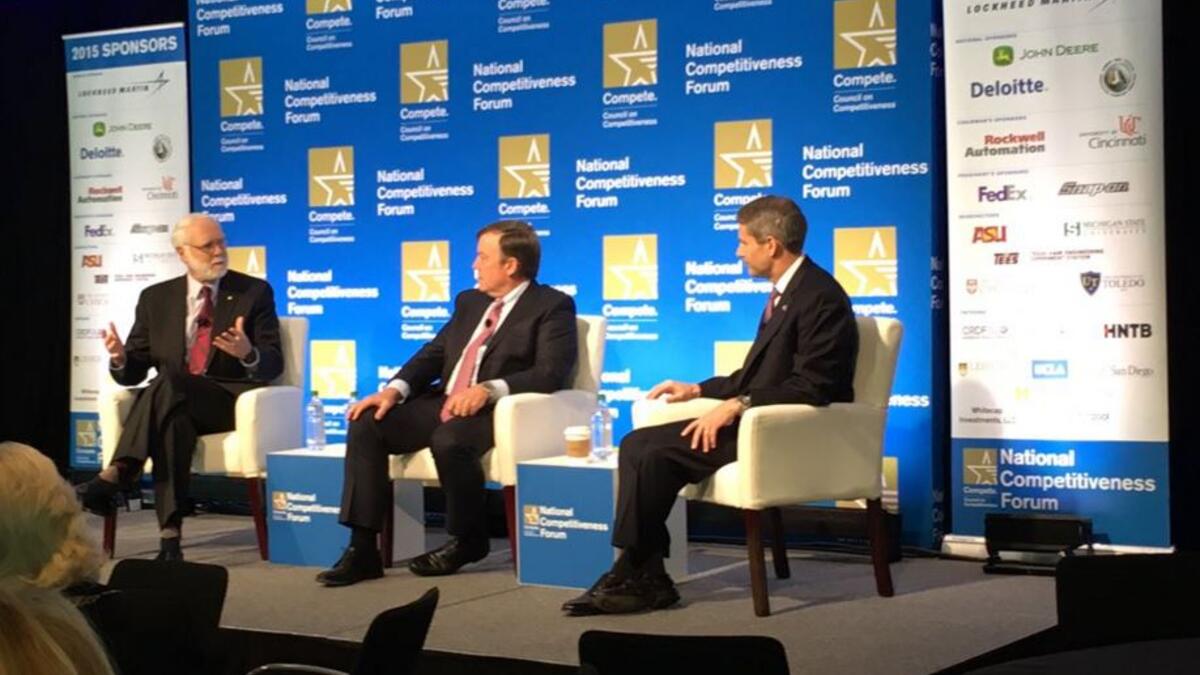 The Council on Competitiveness' 2015 National Competitiveness Forum was dedicated to exploring the future of American innovation, the relationship between energy and manufacturing, and the skills Americans need to survive and thrive in the contemporary economy.  President Michael Crow, university vice chair of the Council on Competitiveness, participated on a December 3rd panel titled, Innovation is Evolving, and joined Wayne Clough, president emeritus of Georgia Institute of Technology and former secretary of the Smithsonian Institution, and Dr. Dana "Keoki" Jackson, vice president and chief technology officer of Lockheed Martin, to discuss why the U.S. must out-educate, out-innovate and out-build the rest of the world and what training is needed to do so. 
The Forum was also the venue for the release of CoC's 2015 Clarion Call, its annual competitiveness agenda for policymakers and year-in-review report card. To review the report in its entirety, please visit the link below.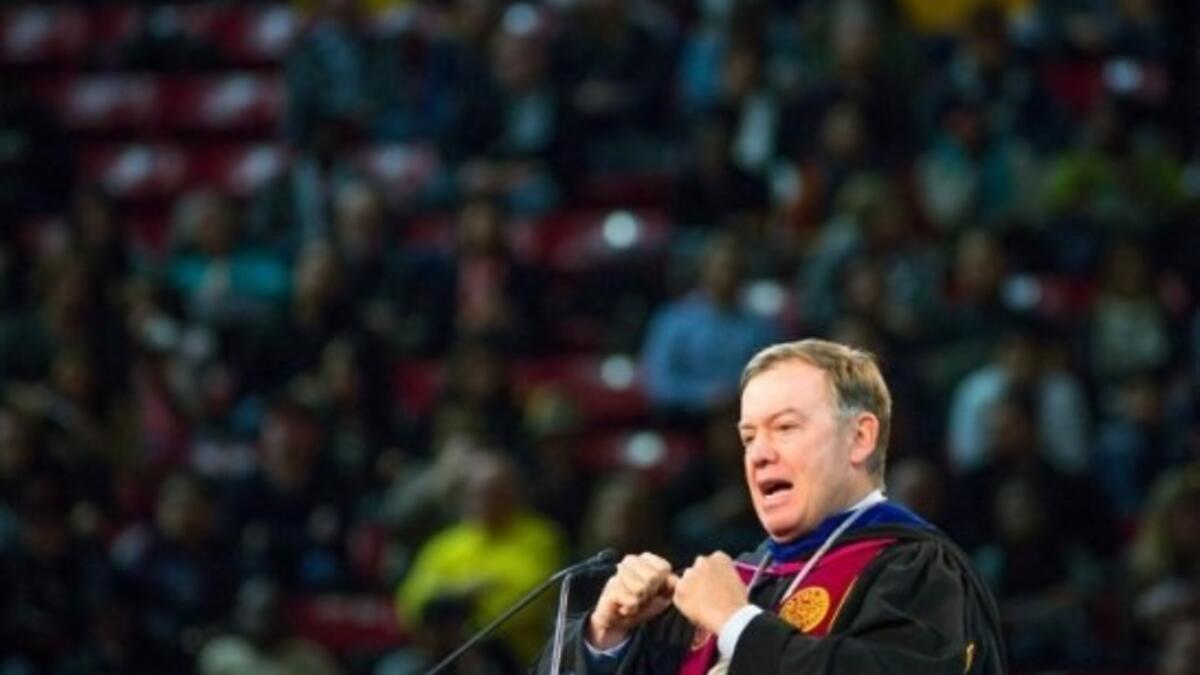 President Crow welcomes largest class of ASU graduates
December 11th marked the beginning of a week-long series of graduation celebrations for the estimated 6,000 of ASU's newest alumni, a new record for fall commencement.

At separate University Commencement ceremonies for undergraduate and graduate students, President Michael Crow urged them to follow their dreams and apply their knowledge to solving problems they are passionate about. He also urged them to ignore society's seemingly pervasive negativity and use their positivity to continue to build our great country, and led graduates in special acknowledgement of their families, friends and teachers for the support that helped them to achieve their goals.
This fall's record setting graduates brings ASU's total 2015 graduates to 18,300, which includes the first graduates of the new School for the Future of Innovation in Society and a number of outstanding graduates that exemplify the ever-growing excellence and diversity of ASU's student body.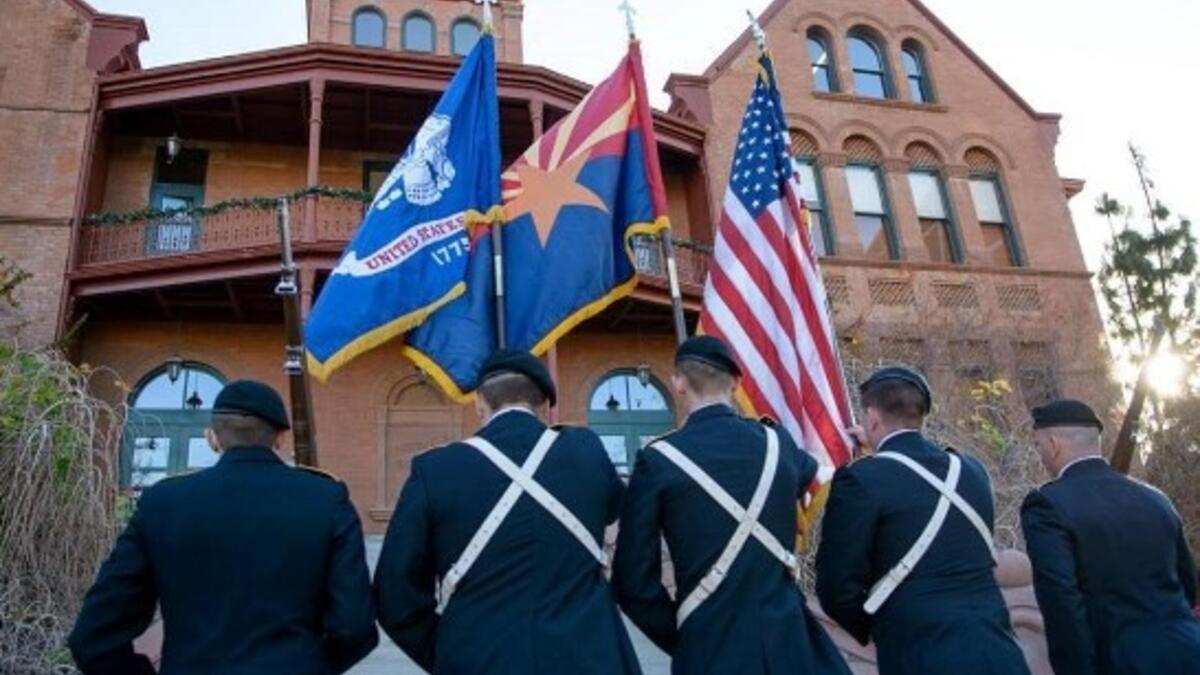 ASU expands support of active duty military and veterans
As part of this month's graduation celebrations, Arizona State University hosted a commissioning Ceremony for ten Reserve Officers' Training Corps students who graduated and are launching their careers in the United States Army. ASU is honored that these members of the ASU family have chosen to bravely serve our country and proud to have played a significant role in preparing them for a successful military career and personal fulfillment.

The ceremony exemplifies the extensive work ASU does to support our active duty military and veteran communities and their families as they advance their educational goals. ASU proudly serves 4,200 military-affiliated students, including veterans and those still serving on active duty, the Guard or reserves, through programs such as the Pat Tillman Veterans Center. 
Additionally, nearly 1,000 military family members are enrolled in classes at ASU and G.I. Jobs has recognized ASU as a "Military Friendly School" for seven consecutive years. ASU will continue to grow its dedicated legacy to the men and women of our U.S. Armed Forces and you are invited to learn more about these efforts at the link below.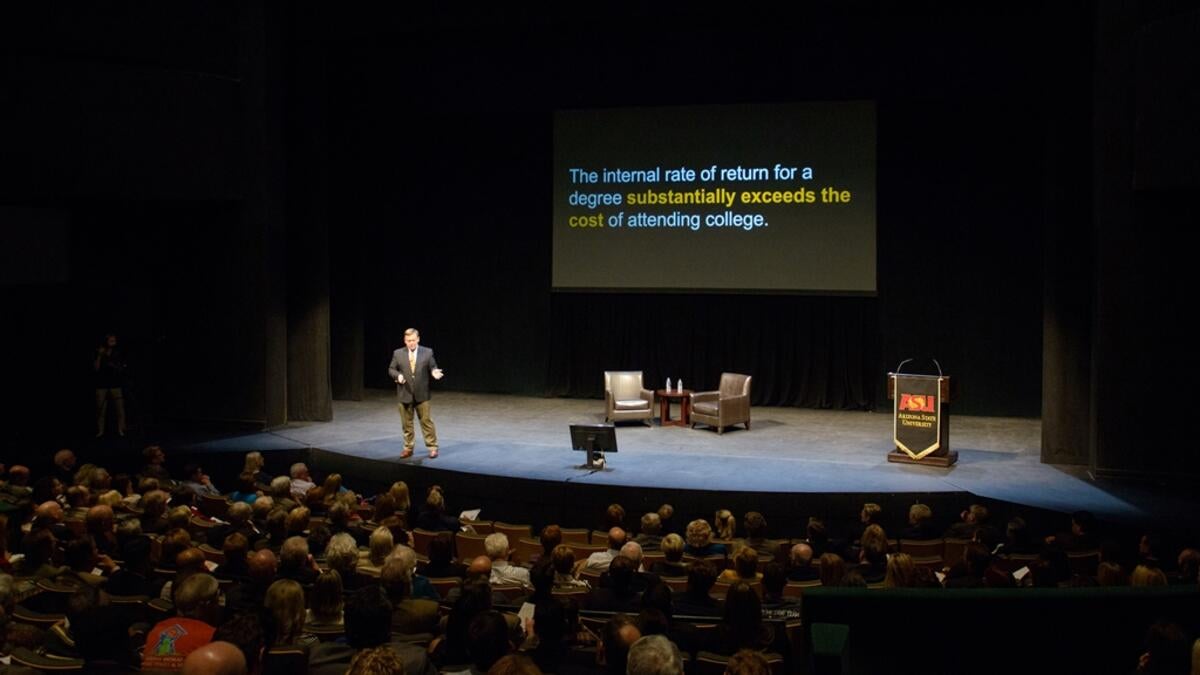 President Crow invites you to his 2016 Community Conversation
President Michael Crow's 2016 Community Conversation is taking place on Wednesday, January 13 at the Paul V. Galvin Playhouse on the ASU Tempe campus. The theme of this year's talk is, "What Is Innovation?" and will address what is means to be labeled "most innovative" and why this designation is important. President Crow's talk will be followed by a 30-minute Q-and-A session featuring questions submitted by audience members. 
 
Check-in and refreshments will begin at 6 p.m. with President Crow's presentation beginning at 7 p.m. Free parking will be available in Lot 20.
 
Please register to attend using the link below.